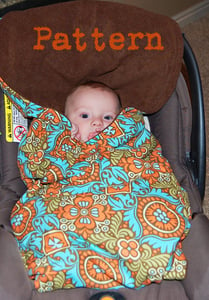 $

3.00 - On Sale
Best warm and snuggly baby gift ever. Really.
With openings that allow the 5 point harness buckles through you can strap your baby in & bundle them up on in one!
My simple printable pattern and full color step by step instructions make it easy to sew one of these cozy car seat blankets.
You simply print the pattern, tape it together, and follow the simple instructions to make your blanket!
For more pictures and detailed information about the blanket and the pattern please visit my blog...
http://ashbyfamilyblog.blogspot.com/2009/10/babyitemgiveaway-1.html
------------------------------------------------------------
Features of the "Car Seat Blanket":
- You don't have to layer your baby in uncomfortable clothes that may make them hot while in the car--keep your baby at an ideal temperature by easily wrapping or unwrapping your baby in this cozy blanket anytime.
-Its EASILY washed! Just take it out of the seat, throw it in the wash, & put it right back in!
-It keeps your actual car seat VERY clean. (I used my "CSB" with my 1st baby and the seat still looks brand new--now baby #2 is loving it too!)
-How many times have you dropped your baby's blanket on the ground? Don't worry about losing or dropping this one, it stays right in your car seat.
-Makes a great baby gift!
-This blanket is an EASY project! I would call myself a "beginner" when it comes to sewing…if I can do it you can too! You can also email or convo me anytime if you have any questions.
------------------------------------------------------------
WHAT YOU'LL GET:
-You will download a PDF file with the pattern & full color instructions. You print and tape the full size pattern pieces together.
Please email me with any questions & thanks for checking out my Car Seat Blanket pattern!
{*Patterns may be used for personal use only. Please do not make or sell these without my permission. Commericial Use contracts are available for purchase to sell handmade blankets commericially. Please see my shop for details. Make and use at your own risk.}